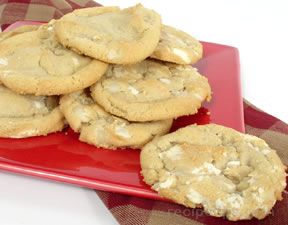 Directions
Combine the flour, baking soda, and salt in a medium bowl. Stir with a fork to mix evenly and then set aside.
In a large mixing bowl, cream the butter, sugar, and brown sugar together. Then add the eggs and vanilla, beating on medium for about 2 minutes.
Add the flour mixture and beat for about 2 more minutes.
Add the macadamia nuts and white chocolate. Stir in by hand just until evenly distributed throughout the dough.
Cover and place in the refrigerator to chill for at least 2 hours. They can be refrigerated overnight.
Drop the dough by a tablespoon on to a ungreased cookie sheet. Space cookies approximately 2 inches apart to allow for spreading.
Bake in an oven preheated to 350° F for 11 to 13 minutes. Bake just until the edges begin to brown.
Remove from the oven and allow to remain on the cookie sheet for a minute or two before removing and placing on a cooling rack.
Allow the cookies to cool completely before storing.
Prep Time: 45 minutes
Cook Time: 45 minutes
Servings: 36
Serving Size: 1


Ingredients
-
2 1/4 cups flour
-
1 teaspoon baking soda
-
1/2 teaspoon salt
-
1 cup butter or margarine , softened
-
3/4 cup sugar
-
3/4 cup brown sugar
-
2 eggs
-
1 1/2 teaspoons vanilla
-
1 cup chopped macadamia nuts
-
2 cups white chocolate chips or white chocolate chunks