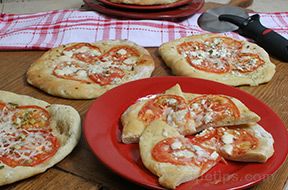 Directions
In sauté pan, over medium heat, add 1 tablespoon olive oil. When hot, add chopped onions and season with salt and pepper. Sauté until caramelized; approximately 7 minutes.
Add garlic, sauté 30 more seconds. Remove from heat and let cool.
In large mixing bowl, combine the yeast, sugar, 2 tablespoons olive oil, warm water, rosemary and sautéed onions. Whisk until yeast dissolves. Let rest for 10 minutes.
Add flour, 1 cup at a time, until all is incorporated and dough has come together.
Take out of bowl and place on floured work surface. Knead the dough several times, may need to sprinkle a little more flour as you go.
Grease a large bowl, add kneaded dough, turn once and cover with plastic wrap. Place in warm, draft free place for 2 hours or until double in size.
Preheat oven to 400° F.
Punch down dough and divide in 1/2. Working with one half of the dough at a time, divide into 6 pieces. Form into round balls. Flour work surface and roll each ball into a 4" round. Place rounds on parchment lined or silpat lined baking sheets or use pizza baking stone.
Lay 4 slices tomato on each round, season with a little salt and crushed red pepper. Sprinkle with a little olive oil. Allow rounds to rest 20 minutes, then bake in oven for 15 minutes.
Remove from oven, sprinkle with 2-3 tablespoons desired cheese. Place back in the oven and bake until cheese is melted and crust is golden; approximately 5-7 minutes.
Serve warm.
Prep Time: 20 minutes
Cook Time: 20 minutes
Container: 2 large baking sheets, sauté pan, large mixing bowl
Servings: 12


Ingredients
-
3 tablespoons olive oil - plus more for sprinkling
-
1 cup onion - chopped
-
pepper to taste
-
3 garlic cloves, chopped
-
3 sprigs fresh rosemary, stemmed, chopped
-
1 active dry yeast
-
1 tablespoon sugar
-
1 1/2 cups warm water
-
3 cups bread flour
-
1 tablespoon salt - plus more to taste
-
6 medium tomatoes, cored, sliced into thin slices
-
crushed red peppers
-
green onions, chopped for garnish, if desired
-
2 ounces fresh, grated, or crumbled cheese, such as Gorgonzola, Romano, Asiago, or Parmesan.