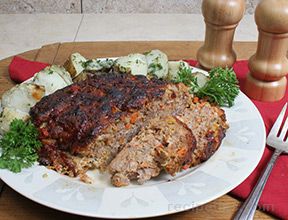 Directions
Preheat oven to 425° F.
Heat oil in large sauté pan over medium heat. Add the carrots, peppers, onion, garlic, 1/2 teaspoon red pepper flakes, salt and pepper. Cook until vegetables are soft; approximately 5 minutes. Set aside to cool.
Whisk together the eggs and herbs in a large bowl. Add meat, bread crumbs, cheese, 1/2 cup ketchup, 2 tablespoons balsamic vinegar, the cooked vegetables and mix with hands, just until combined (don't over mix).
Mold the meatloaf on large rimmed baking sheet lined with parchment paper.
Whisk together 1/4 cup ketchup, 1/4 cup balsamic vinegar and 1/2 teaspoon red pepper flakes. Brush all over the top of the meatloaf.
Bake for 1 hour.
Remove from oven and let rest for 10 minutes before slicing.
Prep Time: 20 minutes
Cook Time: 5 minutes
Container: Large mixing bowl, large sauté pan, large rimmed baking sheet.
Servings: 12


Ingredients
-
3 tablespoons olive oil
-
2 carrots - finely diced
-
1/2 red pepper - finely diced
-
1/2 yellow pepper - finely diced
-
1/4 cup onion chopped
-
5 garlic cloves - chopped
-
1 teaspoon red pepper flakes - divided
-
salt and pepper
-
2 eggs - large, slightly beaten
-
1 tablespoon thyme leaves, fresh - chopped
-
1/4 cup parsley - fresh - chopped (more for garnish)
-
1 pound ground beef
-
1 pound ground pork
-
1 cup bread crumbs - Italian style
-
1/2 cup parmesan/romano/asiago shredded cheese mix
-
1 cup ketchup - divided
-
1/4 cup plus 2 tablespoons Balsamic Vinegar