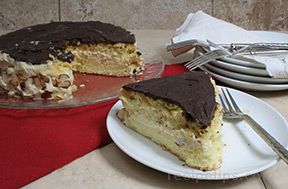 Directions
CAKE:
Preheat oven to 350 degrees F.
In 2 medium bowls, separate egg yolks and whites. Add 1/2 cup sugar to each, beat whites until stiff peaks form then beat yolks until peaked. When stiff, fold whites into yolk mixture. Gradually add flour, mixing with wooden spoon.
Mix in butter.
Pour mixture into greased cake pan. Bake for approximately 20 minutes or until spongy and golden.
Remove from oven, cool for 5 minutes in pan, then turn out on rack or plate to cool completely.
PASTRY CREAM:
In saucepan, bring butter, milk and cream to boil. While mixture is coming to boil, whisk together sugar, cornstarch and eggs. Whip with electric mixer for 5 minutes. When milk boils, whisk in egg mixture and bring to boiling. Boil for 1 minute, whisking continuously. Pour into medium bowl and cover surface with plastic wrap. Chill overnight or until well chilled.
Once chilled, whisk to smooth out. Add rum and honey, mix well.
TO ASSEMBLE:
Cut the sponge cake into 2 layers. Spread pastry cream over first layer, spreading thick.
Top with second cake layer. Spread chocolate icing on top. Spread extra cream around sides of cake. Gently place sliced almonds around the sides of the cake, sticking to the sides.
CHOCOLATE ICING:
Place chocolate squares in medium saute pan over medium heat. Add water, stirring occasionally until melted and combined.
Spread over the top of the cake.
Prep Time: 45 minutes
Container: 3 medium bowls, large saucepan, 10
Servings: 10


Ingredients
-
CAKE:
-
7 eggs - separated
-
1 cup sugar
-
1 cup flour
-
2 tablespoons unsalted butter - melted
-
PASTRY CREAM:
-
1 tablespoon butter
-
2 cups milk - whole, 1% or 2%
-
2 cups half-n-half
-
1/2 cup sugar
-
3 1/2 tablespoons cornstarch
-
6 eggs
-
1 teaspoon rum (optional)
-
2 tablespoons honey
-
CHOCOLATE ICING:
-
6 ounces semi-sweet chocolate
-
2 tablespoons warm water
-
4 ounces sliced almonds