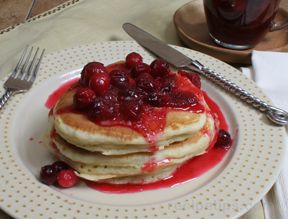 Directions
Grease griddle.
Heat the griddle to medium high heat.
In a large mixing bowl, beat the eggs and stir in the milk and oil.
Add the remaining ingredients and beat or stir just until the large lumps disappear.
Pour the batter 1/4 cup at a time on the griddle.
Cook the cakes until bubbles form on the top. Then fil and cook the other side for 1-2 minutes more.
Remove from the griddle and serve hot with butter and syrup.
Prep Time: 10 minutes
Cook Time: 5 minutes
Container: griddle, mixing bowl
Servings: 4


Ingredients
-
2 eggs
-
2 cups buttermilk
-
1/4 cup vegetable oil
-
1 3/4 cups flour
-
2 tablespoons sugar
-
2 teaspoons baking powder
-
1 teaspoon baking soda
-
1 teaspoon salt