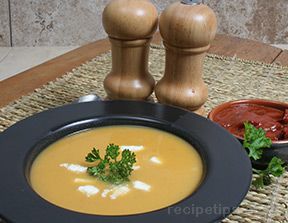 Directions
In a medium soup pot, heat the oil, until simmering. Add the onion, garlic and ginger and cook over low heat. Stir until softened; approximately 7 minutes. Add the apples and celery, cooking for an additional 5 minutes. Now add the sliced sweet potatoes, chicken stock, and water. Bring to a boil. Cover partially and let simmer over low heat until the fruit and vegetables are very tender; approximately 45 minutes.
For spicier variation see the "Note" below and add the chipolte peppers and mole sauce (if peppers are in a mole sauce) now before the soup is pureed.
Use a blender(immersion blender is best) to puree the soup until smooth.
Season with salt and white pepper. Add the cumin, onion powder and cayenne papper, stir until blended well.
Garnish with crumbled feta or goat cheese, if desired and serve. Refrigerate remainder for up to a week.
Note: To add a flavorful spiciness to the soup, consider using chipolte peppers, either chopped bits or pureed into the soup base. Some chipolte peppers can be found in food stores as a canned product. The peppers are seeded and may be whole or chopped and may also be combined with a mole sauce. Add to taste for mild to hot intensities or serve in a seperate bowl and allow guests to add amounts to suit their taste buds. The addition of the mole sauce will increase the intensity of the flavor.
Prep Time: 30 minutes
Cook Time: 15 minutes
Container: Medium soup pot
Servings: 6
Serving Size: 1 cup


Ingredients
-
2 tablespoons vegetable oil
-
1 white onion - medium
-
garlic cloves, smashed
-
1 teaspoon ginger - fresh, finely grated
-
2 gala apples - seeded and coarsely chopped
-
1 celery stalks, thinly sliced crosswise
-
2 pounds sweet potatoes - peeled and thinly sliced
-
1 quart chicken stock or low-sodium broth
-
3 cups water
-
Salt and white pepper to taste
-
1/2 teaspoon cumin - more or less to taste
-
1/2 teaspoon onion powder
-
1/2 teaspoon cayenne pepper - more or less to taste (optional)
-
7 1/2 ounces chipolte peppers (optional - see Note below)