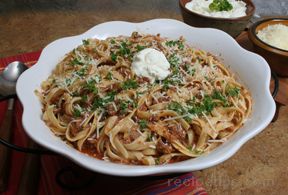 Directions
In sauté pan, heat 3 tablespoons of olive oil over medium heat.
Add mushrooms, bacon, onion, garlic, celery and carrot.
Sauté for approximately 10 minutes or until the vegetables are tender.
Place all of this in a food process and pulse until well pureéd.
In the same sauté pan, place one tablespoon of oil, add the bay leaves and herbs.
Cook on low until fragrant (2-3 minutes.
Then add the pureéd vegetables back into the pan with the herbs and cook for 5-10 minutes.
While that is simmering, brown the ground beef and ground pork in a skillet until no longer pink. Drain.
Add the browned ground beef into the skillet with the pureéd vegetables.
Add the milk and simmer on medium low until the liquid is evaporated, approximately 10 minutes.
Pour in the crushed tomatoes, wine, salt and pepper.
Bring to a boil, the reduce the heat and cover. Simmer for 2-2 1/2 hours, stirring occasionally, until the sauce is thick.
Cook pasta according to package directions.
Toss the sauce with the cooked pasta in a large serving bowl or platter.
Serve with shredded cheese, basil and a dollop of ricotta or sour cream.
Prep Time: 25 minutes
Cook Time: 3 hours
Container: large sauté pan, skillet, pasta pot, food processor
Servings: 8


Ingredients
-
4 ounces mushrooms - Baby Bella's, sliced
-
2 slices bacon - chopped
-
1 onion - medium sized, chopped
-
2 stalks celery - chopped
-
2 carrots - peeled and diced
-
2 teaspoons garlic - chopped
-
3 tablespoons olive oil
-
2 bay leaves
-
2 sprigs rosemary - stemmed and chopped
-
1 tablespoon basil - dried
-
1 teaspoon thyme - dried
-
1 pound ground beef
-
1 pound ground pork
-
2 cups milk
-
28 ounces Italian seasoned tomatoes - crushed
-
2 cups red wine
-
salt and pepper to taste
-
1 pound fettuccine
-
parmesan cheese - fresh grated for garnish
-
basil - for garnish
-
ricotta cheese or sour cream for garnish