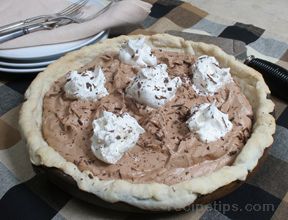 Directions
In a mixer, cream the butter and sugar. Blend well.
Melt the chocolate on medium low in a small saucepan.
Once melted, add the butter mixture and vanilla and blend.
Add the eggs, one at a time beating well after each addition.
Remove mixing bowl from the mixer and fold in 2 cups of non dairy whipped cream.
Pour into a baked pie shell and garnish with whipped cream or non dairy whipped cream and chocolate shavings.
Refrigerate until set.
Prep Time: 20 minutes
Container: nine inch round pie pan, mixer, small saute pan
Servings: 8


Ingredients
-
1 pre baked pie crust - nine inch
-
3/4 cup powdered sugar
-
1/4 pound unsalted butter
-
4 ounces semi-sweet baking chocolate
-
1/2 teaspoon vanilla extract
-
3 eggs
-
2 cups non-dairy whipped topping - more for garnish
-
chocolate shavings - for garnish