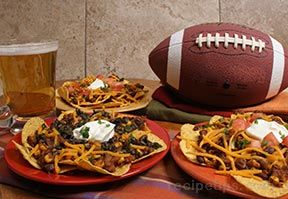 Directions
Heat skillet to medium heat, add oil. When oil is hot, add onions and garlic. Saute until onions are tender; approximately 10 minutes.
Add beef and saute until meat is browned, breaking up large chunks with spatula.
Add chili powder and oregano, mix until well blended.
Add beans, corn and tomato sauce. Cover and let simmer until meat is cooked thoroughly; stirring occasionally.
Stir in cilantro and lemon juice and season with pepper.
Layer tortilla chips on deep serving plates or bowls. Spoon meat mixture over chips. Top with cheese and other toppings as you desire. Serve warm with sour cream.
Prep Time: 15 minutes
Cook Time: 15 minutes
Container: deep serving plates or bowls, skillet
Servings: 12


Ingredients
-
onion - chopped
-
garlic - chopped
-
1 pound ground beef
-
1/4 cup chili powder
-
2 teaspoons oregano
-
15 ounces black beans - rinsed, drained
-
12 ounces tomato sauce
-
16 ounces corn - frozen, thawed
-
1/4 cup cilantro - fresh
-
3 tablespoons lemon juice
-
2 cups Cheddar cheese - sharp, shredded
-
tortilla chips
-
12 ounces sour cream
-
black olives - chopped (optional)
-
tomato - chopeed (optional)
-
jalapeño - chopped (optional)