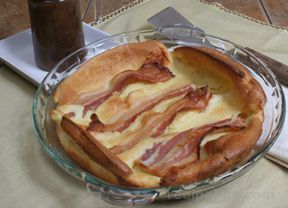 Directions
Preheat oven to 450° F.
In a medium mixing bowl, whisk the eggs.
Gradually add the flour and salt. Beat well to combine.
Blend in the milk until the batter is smooth.
Add the oil and mix well.
Pour in a buttered 10 inch skillet or a 9x9x2 baking dish.
Arrange the bacon slices across the top of the batter.
Place in the oven and bake for 20 minutes, then reduce the heat to 350° F and bake another 10 minutes or until nicely browned.
Serve immediately with maple syrup or other desired toppings.
Prep Time: 15 minutes
Container: medium mixing bowl
Servings: 4


Ingredients
-
3 eggs
-
1/2 cup flour
-
1/2 teaspoon salt
-
1/2 cup milk
-
2 tablespoons vegetable oil
-
2 slices bacon - cut in half