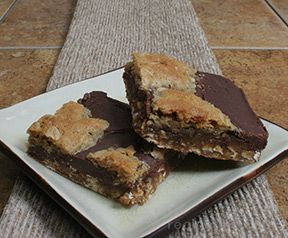 Directions
Preheat oven to 350° F.
Prepare a 9x11 baking pan with non-stick cooking spray.
In a small mxing bowl, stir together the flour, one cup of oats, baking powder and salt.
In a medium mixing bowl, beat the eggs with a hand mixer along with the brown sugar, oil and vanilla.
Add the flour mixture and mix until incorporated.
Reserve 1 1/4 cups of the batter.
Pat and spread the rest of the batter into the bottom of the prepared pan.
In a saucepan over medium heat, melt the chocolate chips and the condensed milk until smooth.
Spread the chocolate over the oatmeal batter in the pan.
Add 4 tablespoons of quick oats and 4 teaspoons of softened butter to the reserved batter and mix to incorporate.
Drop small pieces of the remaining batter sporatically over the chocolate.
Bake for 20 minutes or until the top is golden brown.
Allow to cool completely before cutting.
*Note: Can add 1/4 cup of finely chopped walnuts or pecans to the batter if desired.
Prep Time: 15 minutes
Cook Time: 20 minutes
Container: 9x11 baking pan, medium mixing bowl, small mixing bowl, hand mixer, small saucepan
Servings: 32


Ingredients
-
2 cups flour
-
1 cup oatmeal - quick cooking
-
1 teaspoon baking soda
-
1 teaspoon baking powder
-
1/2 teaspoon salt
-
2 eggs
-
1 1/2 cups brown sugar - packed
-
1/2 cup vegetable oil
-
2 teaspoons vanilla extract
-
1 1/2 cups semi-sweet chocolate chips
-
2/3 cup sweetened condensed milk
-
4 tablespoons oatmeal - quick cooking
-
4 teaspoons butter - softened
-
1/4 cup walnuts or pecans - finely chopped, if desired