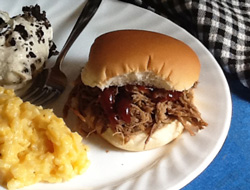 Directions
Place the meat in a slow cooker.
Combine the soups, soup mix, and water. Pour over the meat.
Cook on low for 8-10 hours. Remove meat from slow cooker and shred (discard any excess fat from the meat).
Place back in slow cooker with juices. Place on buns to serve.
Prep Time: 30 minutes
Cook Time: 6 or more hours
Container: 8 quart slow cooker
Servings: 18


Ingredients
-
2 1/2 pounds beef roast
-
2 pounds pork roast
-
2 cans cream of mushroom soup
-
1 package dry onion soup mix
-
1 cup water
-
36 cocktail sandwich buns