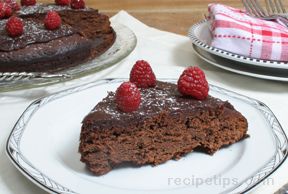 Directions
CAKE:
Preheat oven to 350°F.
Grease springform pan, dust with cocoa powder or flour.
Combine flour, baking powder and salt in a medium bowl and set aside.
In a small saucepan, over low heat, melt the chips, unsweetened chocolate squares and butter. Stir until smooth.
Remove from heat and allow to cool slightly.
In a medium bowl, whisk together the sugar, the jam, cherry juice and eggs until well blended.
Stir in cooled chocolate and flour mixture into the jam mixture, mix well.
Pour into a prepared springform pan.
Bake for 40-50 minutes or until a toothpick inserted in the center comes out clean.
Remove the sides of the pan and allow to cool completely.
TOPPING:
In a small saucepan, heat the jam with the chocolate chips, butter and lemon juice.
Pour over the top of the cooled cake.
Dust with powdered sugar if desired and top with fresh raspberries .
Prep Time: 25 minutes
Cook Time: 45 minutes
Container: 9-inch round springform pan
Servings: 16


Ingredients
-
CAKE:
-
1 cup flour
-
3/4 teaspoon baking powder
-
1/4 teaspoon salt
-
6 tablespoons semi-sweet chocolate chips
-
2 ounces unsweetened chocolate baking squares
-
3/4 cup unsalted butter
-
3/4 cup sugar
-
3/4 cup raspberry jam - seeded or unseeded
-
1 tablespoon maraschino cherry juice
-
2 eggs
-
TOPPING:
-
1/4 cup raspberry jam
-
2 tablespoons semi-sweet chocolate chips
-
1 tablespoon unsalted butter
-
1 tablespoon lemon juice
-
powdered sugar - for dusting
-
1/2 cup raspberries - for garnish