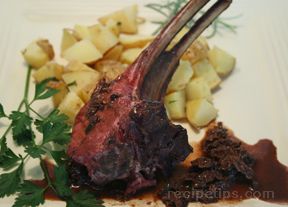 Directions
Mix wine, garlic, soy sauce and 2 teaspoons olive oil in a zipper-top bag just large enough to hold the rack. Add meat, close bag securely, and let meat marinate for an hour or two, turning the bag occasionally.
Prepare the morels: unless they are very small, break into pieces. Soak in 1 cup hot water until soft, about 30 minutes. Carefully lift softened morels from soaking water, leaving behind any sand or grit. Squeeze gently to remove retained water. Save all soaking liquid - it has much of the morels' flavor.
Heat butter in a small pan, add morels, salt and pepper lightly, and cook for a minute or two. Carefully pour soaking liquid over morels, leaving any grit in the soaking bowl. Cook morels until liquid has evaporated; set aside.
About 30 minutes before serving time, preheat oven to 400°F. Remove meat from marinade ( reserve marinade) and pat dry. salt and pepper lightly.In a heavy oven proof skillet large enough to hold rack, add remaining oil and heat until shimmering. Brown meat on flesh side and ends, then turn bone-side down and put in hot oven.
While meat roasts, finish sauce: add marinade to mushrooms and cook until liquid is reduced by about half. Taste for seasoning and keep warm.
Roast meat to 125 - 130° on an instant-read thermometer, about 20 - 25 minutes. Let rest about 5 minutes, carve into 2-chop slices and spoon sauce over. Serve immediately.
Prep Time: 15 minutes
Cook Time: 25 minutes
Container: heavy oven-proof skillet
Servings: 4


Ingredients
-
1 8-rib rack of lamb, Frenched
-
1 cup dry red wine
-
2 cloves garlic, mashed or pressed
-
1 tablespoon soy sauce
-
2 tablespoons olive oil, divided
-
1/2 ounce dried morels
-
2 tablespoons butter
-
salt and pepper