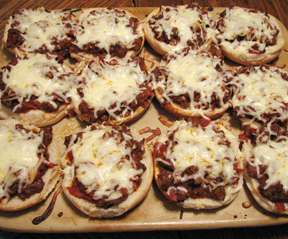 Directions
Preheat oven to 400 degrees F.

Brown hamburger, onion and garlic in skillet, drain grease.

Return hamburger mixture to skillet, add pizza sauce, pepperoni, and Italian seasoning. Stir and heat through. Place each half of the bun on a cookie sheet. Spoon mixture onto top of each bun. Top each burger with mozzarella cheese.

Bake in oven until cheese is melted, about 15 minutes.
Prep Time: 15 minutes
Cook Time: 15 minutes
Container: Skillet and cookie sheet
Servings: 4
Serving Size: 3


Ingredients
-
1 pound ground beef
-
1/2 cup pepperoni - chopped
-
1 can pizza sauce
-
1 clove garlic - minced
-
1/2 cup onion - chopped
-
1 cup mozzarella cheese - shredded
-
1 teaspoon Italian seasoning
-
6 buns, divided