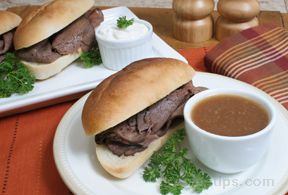 Directions
Season stew meat with salt and pepper.
Dredge the pieces in flour, coasting all sides.
Heat oil in a dutch oven or saucepan on medium-high heat.
Add prepared stew meat and brown on all sides. When the meat is all browned, add the onion, reduce heat to medium-low and cook until the onions are tender and starting to caramelize - approximately 10-15 minutes.
Add garlic and tomato paste, cook for 3 minutes.
Add the beef broth, Worcestershire sauce and bay leaf. Cover and simmer for 20 minutes.
Remove the cover, increase the heat to medium and simmer another 25-30 minutes. The broth will reduce to about 3 cups.
Taste the broth, add salt if needed.
Strain the broth, discard the bay leaf and reserve the meat for another recipe. The meat would be great in a bbq beef sandwich or on top of egg noodles.
To assemble the sandwiches, split the rolls horizontally, but do not cut all the way through.
Place in the oven just until warmed all the way through, approximately 5 minutes at 325°F.
Add the sliced, deli style beef to the au jus in the sauce pan until warmed through.
Remove the beef from the au jus and divide it up amoung the warmed rolls.
Keep the sauce warm and pour into individual cups for serving.
Add horseradish sauce or sliced cheese to the sandwiches if desired.
Prep Time: 30 minutes
Cook Time: 45 minutes
Container: dutch oven or saucepan, medium bowl
Servings: 6


Ingredients
-
HORSERADISH SAUCE:
-
1 cup sour cream
-
1/4 cup horseradish
-
2 teaspoons Dijon mustard
-
2 green onions - finely chopped
-
AU JUS:
-
1/2 pound stew beef
-
1 teaspoon salt
-
1 teaspoon pepper
-
1/4 cup flour
-
1 tablespoon vegetable oil
-
1 cup onion - finely chopped
-
1 clove garlic - chopped
-
2 teaspoons tomato paste
-
28 ounces beef broth - low sodium or regular
-
28 ounces beef broth - seasoned
-
1 teaspoon Worcestershire sauce
-
1 bay leaf
-
SANDWICH:
-
1 1/2 pounds roast beef - deli style
-
6 hoagie buns