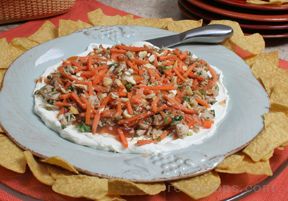 Directions
Place chopped chicken in a one gallon resealable plastic bag. Add in the carrot, cashews, onions, parsley, soy sauce, ginger and garlic. Seal and refrigerate for several hours to blend the flavors.
Combine the cream cheese and milk in a mixing bowl.
Beat until smooth and fluffy.
Spread mixture over the bottom of a 12 inch serving platter or pie plate.
Spoon the chicken mixture over the cream cheese.
Drizzle with the sweet and sour sauce and serve with crackers.
To make the sweet and sour sauce, combine the brown sugar and cornstarch in a small saucepan.
Gradually stir in the remaining ingredients and heat over medium heat.
Cook, stirring constantly, for about 5 minutes or until the sauce thickens.
Cool, cover and refrigerate until ready to use.
Prep Time: 20 minutes
Cook Time: 5 minutes
Container: medium mixing bowl, small saucepan, round serving platter
Servings: 12


Ingredients
-
3/4 cup chicken or turkey - cooked and finely chopped
-
1/2 cup carrot - shredded
-
1/4 cup cashews - chopped
-
3 green onions - chopped
-
1 tablespoon parsley - chopped
-
2 tablespoons soy sauce
-
1/4 teaspoon ginger - ground or 1/2 teaspoon of fresh grated ginger
-
1 clove garlic - minced
-
8 ounces cream cheese - at room temperature
-
1 tablespoon milk
-
SWEET AND SOUR SAUCE:
-
1/4 cup brown sugar
-
2 tablespoons cornstarch
-
1/4 cup ketchup
-
2 tablespoons vinegar
-
1 cup water
-
1 tablespoon Worcestershire sauce
-
3 dashes hot sauce