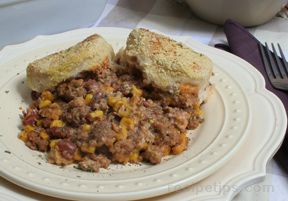 Directions
Preheat oven to 375° F.
In a large skillet, over medium heat, brown the ground beef and onion. Drain and return the meat mixture to the skillet.
Add in the beans, corn, soup, milk, chili powder and salt. Bring to a boil.
Turn the heat to low and add the cubed cheese.
Stir until melted.
Spoon into a greased 2 1/2 quart baking dish.
Bake, uncovered, for 10 minutes.
Meanwhile, dip the biscuits into the melted margarine, turning to coat each side.
Roll each biscuit into the cornmeal.
Place the biscuits on top of the bubbling meat mixture.
Return to the oven and bake for another 10-15 minutes or until the biscuits are lightly browned and cooked through.
Prep Time: 25 minutes
Cook Time: 20 minutes
Container: large skillet, 2 small mixing bowls, 2 1/2 quart baking dish
Servings: 6


Ingredients
-
1 pound ground beef
-
1/4 cup onions - chopped
-
16 ounces kidney beans - canned, rinsed and drained
-
15 ounces corn - canned, whole kernal, drained
-
10 ounces tomato soup - canned, condensed and undiluted
-
1/4 cup milk
-
1 teaspoon chili powder
-
1/4 teaspoon salt
-
1 cup processed cheese - cubed
-
12 ounces refrigerated biscuits
-
3 tablespoons butter or margarine
-
1/3 cup cornmeal