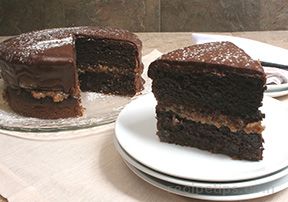 Directions
Preheat oven to 350°F.
In mixer bowl, mix together cake mix, pudding mixes, sour cream, applesauce, eggs and coffee. Mix until combined. Remove bowl from mixer, stir in chocolate chips.
Pour batter into greased/floured pan or pans.
Bake for 50 minutes in a bundt pan or until toothpick inserted into the center comes out clean.
For bundt, cool in pan completely before turning out on serving plate. For cake rounds, invert onto wire rack to cool. When cooled, place 1st round top side up on serving platter, spread frosting over entire top. Place 2nd round on top of frosted one, top side up. Pour melted* chocolate chips over top, allowing to drizzle over sides. Dust with powdered sugar if desired. For bundt, drizzle melted chips over the top and dust with powdered sugar.
*Melt chocolate chips and margarine in microwave on high for 30-40 seconds. Stir to combine, add milk to desired consistency and use immediately.
Prep Time: 15 minutes
Cook Time: 1 hour
Servings: 12


Ingredients
-
1 box chocolate cake mix - favorite kind
-
1 package french vanilla instant pudding
-
1 package chocolate instant pudding
-
1 cup sour cream
-
1 cup applesauce
-
4 eggs
-
1/2 cup warmed coffee
-
2 cups semi-sweet chocolate chips
-
2 cups chocolate/white chocolate chips
-
3 tablespoons margarine
-
3 tablespoons milk or half-n-half
-
1 canister ready made frosting - German chocolate or regular chocolate