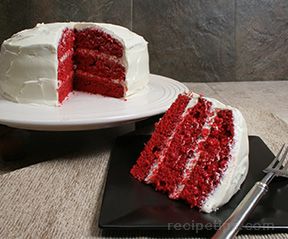 Directions
Preheat the oven to 350°F.
In a large mixing bowl, mix together the oil, buttermilk, eggs, food coloring, vinegar and vanilla. In a different bowl, sift together the flour, sugar, salt, baking soda and cocoa powder. Using a mixer, slowly incorporate the dry ingredients into the wet ingredients.
Spray each cake pan with the non-stick cooking spray and dust each with flour. Divide the batter evenly between the three pans.
Place in the oven with room between each pan for the heat to circulate for 20-25 minutes. The cake is done when it begins to pull away from the edges of the pan. Allow cakes to cool for 5 minutes on cooking racks, then invert them onto the racks to remove them from the pan. Allow to cool completely.
For the frosting, cream together the cream cheese, butter, powdered sugar and vanilla for 2 minutes in a mixer or until light and fluffy. Place one cake on a cake platter and frost the top with 1/4" of frosting, place the second cake, top side down on top of the first and add 1/4" of frosting. Top with the last cake, top side up and frost the top and sides. Store covered.
Prep Time: 30 minutes
Cook Time: 25 minutes
Container: mixer, 3
Servings: 16


Ingredients
-
2 1/2 cups flour
-
1 1/2 cups sugar
-
1 teaspoon salt
-
1 teaspoon baking soda
-
2 tablespoons cocoa powder
-
1 1/2 cups vegetable oil
-
1 cup buttermilk
-
2 eggs - large, at room temperature
-
2 tablespoons red food coloring
-
1 1/2 teaspoons distilled white vinegar
-
1 1/2 teaspoons vanilla extract
-
FROSTING:
-
16 ounces cream cheese - at room temperature
-
1 cup unsalted butter - softened
-
4 cups powdered sugar
-
2 teaspoons vanilla extract