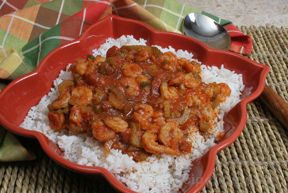 Directions
Heat oil in skillet or dutch oven. Sauté onion, celery and garlic over medium/low heat until tender; approximately 10 minutes.
Add tomatoes, tomato sauce, salt, sugar, chili powder, Worcestershire sauce and hot sauce. Simmer on medium/low heat, uncovered for 45 minutes. Stir occasionally to keep from sticking.
Mix cornstarch with water in small bowl. Stir into tomato mixture.
If serving immediately, add shrimp and pepper and cook for 8-10 minutes more (if shrimp is pre-cooked).
You may also prepare tomato mixture ahead, freeze, and when ready to eat, thaw, bring to a simmer and add the shrimp and peppers; heat through.
Serve over rice cooked according to package directions.
Prep Time: 15 minutes
Cook Time: 1 hour
Container: large skillet or dutch oven, sauce pan
Servings: 8


Ingredients
-
3 tablespoons olive oil
-
1/2 cup onion - chopped
-
1/2 cup celery - chopped
-
1 garlic clove, minced
-
1 (14.5 oz.) can of stewed tomatoes
-
1 (8 oz.) can of tomato sauce
-
1/2 teaspoon salt
-
1 teaspoon sugar
-
1 teaspoon chili powder
-
1 tablespoon Worcestershire sauce
-
dash of Tobasco sauce
-
2 tablespoons cornstarch
-
1 tablespoon cold water
-
1 pound shrimp - small, peeled, deveined
-
1/2 cup bell peppers - red or green
-
cooked rice, regular or basmati