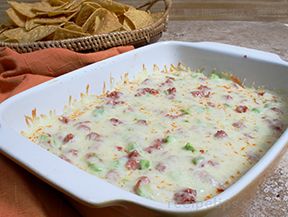 Directions
Preheat oven to 350° F.
In small bowl, combine sour cream, cream cheese, garlic powder and chopped oregano until well mixed.
Spread cream cheese mixture evenly into baking dish. Over the cream cheese, spread the pizza sauce.
Combine the diced pepperoni, onions and bell pepper in a small bowl and mix until well blended. Sprinkle the mixture over the top of the pizza sauce.
Bake for 10 minutes. Remove from oven and sprinkle cheese over the top. Return to oven and bake until cheese is melted; approximately 7 minutes.
Serve warm with your favorite tortilla chips or pita chips.
INGREDIENT OPTIONS: Add your favoite pizza toppings with or in place of the pepperoni, onions and peppers to give the dip your own unique twist.
Prep Time: 5 minutes
Cook Time: 15 minutes
Container: small mixing bowl, shallow baking dish
Servings: 20
Serving Size: 2 tablespoons


Ingredients
-
8 ounces cream cheese - softened
-
3/4 cup sour cream
-
1/8 teaspoon garlic powder
-
1/2 teaspoon oregano - dried, chopped
-
1 1/4 cups pizza sauce
-
3/4 cup pepperoni - diced
-
1/2 cup onion - diced
-
1/2 cup green bell pepper - diced
-
2 cups mozzarella cheese - shredded