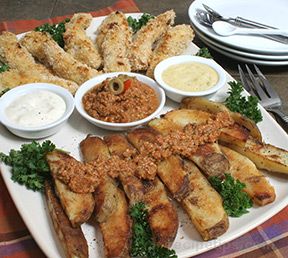 Directions
Preheat oven to 425°F and lightly grease a large baking sheet.
Place whole scrubbed potatoes in large pot with cold water, just covering them. Bring to a boil, add large pinch of salt, and cook until just tender when pierced with a knife; approximately 25 minutes. Drain and let cool slightly.
Leave skin on or peel off and cut potatoes into wedges. Place on baking sheet (may need two sheets). Drizzle with olive oil, turn to coat. Season with salt and pepper.
Roast the potatoes for approximately 40 minutes, until potatoes are browned and crisp; turn once halfway through baking time.
To make Romesco sauce, heat 1/4 cup olive oil in large skillet. Add chopped almonds and pecans. Stir to coat.
After 2-3 minutes, add breadcrumbs and cook for another minute.
Remove from heat, let cool slightly, and pour into a food processor.
Add chipotle pepper, garlic, tomato, parsley, red peppers and sherry cooking wine to the nut and breadcrumb mixture in the food processor. Process into a coarse paste. Season with salt and pepper.
Spoon Romesco sauce over potato wedges or serve sauce on side along with chopped green olives.
NOTE: Potatoes and sauce can be made one day ahead. Store each covered in refrigerator. Reheat wedges in a 400°F oven before topping with sauce.
Prep Time: 25 minutes
Cook Time: 45 minutes
Container: large baking sheet, large stock pot, food processor
Servings: 8


Ingredients
-
1 chipotle pepper - dried, soaked in hot water for 10 minutes
-
4 pounds baking potatoes, scrubbed
-
salt
-
1/4 cup olive oil
-
1/4 cup almonds - chopped
-
1/4 cup pecans - chopped
-
2 tablespoons Italian bread crumbs
-
3/4 jarred sweet red peppers - drained
-
3 cloves garlic, chopped
-
1 tomato - roughly chopped, stemmed
-
2 tablespoons fresh parsley
-
1 tablespoon sherry cooking wine
-
1 cup pitted green olives chopped (optional)