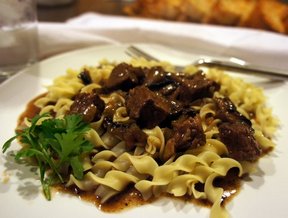 Directions
In a storage bag, combine beef and flour. Shake to coat.
In a small bowl, combine marinade seasoning, oil, vinegar and water. Whisk to combine. Pour over beef. Let stand for 15 minutes.
Melt butter in large skillet over medium-high heat. Cook onions, green pepper and mushrooms, approximately 5 minutes. Add garlic, stirring to be sure garlic doesn't burn. Add beef mixture with marinade. Cook until browned. Add beef stock and stir until thickened. Reduce heat and simmer.
Cook egg noodles according to package. Drain. Butter, if desired.
Serve over hot, egg noodles.
Prep Time: 15 minutes
Cook Time: 20 minutes
Servings: 6


Ingredients
-
1 pound beef, cut into 1-inch chunks
-
2 tablespoons flour
-
1 package McCormick® Meat Marinade Seasoning Mix
-
1/4 cup vegetable oil
-
2 tablespoons vinegar
-
1 tablespoon water
-
2 tablespoons butter
-
1/2 cup onion, diced
-
1/2 cup green pepper, diced
-
1 clove garlic, minced
-
1 cup mushrooms, sliced
-
2 cups beef stock
-
10 ounces egg noodles, cooked, drained