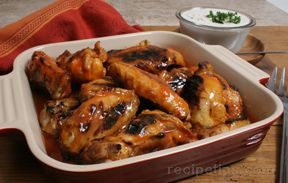 Directions
Heat grill to medium high.
Combine the hot sauce, honey and butter in small saucepan and cook over medium heat until the butter is melted.
Season with salt and pepper.
Pour half the sauce in a bowl and keep the other half in the saucepan, warm, over low heat.
Season the wings on both sides with salt and pepper.
Lay the wings out on a large cookie sheet.
Brush the top and sides with the reserved sauce.
Place the wings, sauce side down, on the grill.
Brush the other side of the wings with sauce.
Grill on each side for approximately 6 minutes or until golden brown and cooked through.
Remove the wings from the grill and place on a serving platter.
Pour the warmed sauce over the wings to desired amount.
Serve with blue cheese sauce on the side for dipping.
BLUE CHEESE SAUCE:
Whisk together all of the ingredients in a medium bowl.
Cover and refrigerate for at least 30 minutes before serving.
Prep Time: 10 minutes
Cook Time: 15 minutes
Container: grill, large baking sheet, medium mixing bowl
Servings: 6


Ingredients
-
WINGS:
-
1 cup hot sauce - any variety
-
1/2 cup honey
-
6 tablespoons unsalted butter
-
salt and pepper to taste
-
24 chicken wings and drummies
-
BLUE CHEESE SAUCE:
-
1/2 cup mayonnaise
-
1/2 cup yogurt - plain, non fat, or regular
-
1 teaspoon Worcestershire sauce
-
1/4 cup celery - finely diced
-
1/2 cup blue cheese - crumbled, any variety
-
2 tablespoons green onions - chopped
-
salt and pepper to taste