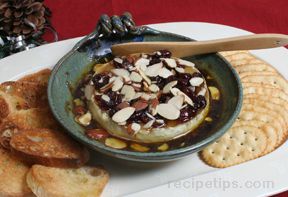 Directions
Cook the brown sugar and butter in a saucepan over medium heat, stir until thick.
Add the cinnamon, nutmeg and the amaretto or brandy.
Place the brie, with the top 1/8 inch sliced off, in a brie baker or small baking dish.
Pour sauce over the brie and sprinkle with almonds and cherries.
Bake at 350° F. for 10-15 minutes, or microwave at 30 second intervals until the cheese becomes soft.
Serve warm with crackers or baguette slices.
Prep Time: 15 minutes
Cook Time: 15 minutes
Container: small saucepan, shallow baking dish or brie baker


Ingredients
-
1 Brie cheese - 5 or 6 inches round
-
1/4 cup butter
-
1/4 cup brown sugar
-
1 dash nutmeg
-
1 dash cinnamon
-
1 Amaretto or brandy splash
-
4 tablespoons almonds chopped
-
4 tablespoons dried cherries