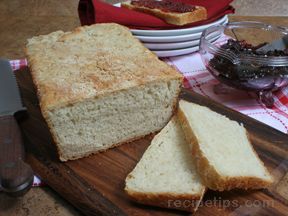 Directions
Grease 2 pans lightly. Sprinkle with cornmeal to coat the bottom and sides of the pan and set aside.
In a large bowl, combine 3 cups of flour, yeast and baking soda. Set aside.
In a medium saucepan, heat and stir milk, water, sugar and salt just until warm (120°-130°F.)
Using a wooden spoon, stir the milk mixture into the flour mixture.
Stir in the remaining 3 cups of flour.
Sprinkle a work surface with a little flour, dump the dough out and finish incorporating the ingredients with your hands.
Divide the dough in half and place each in a prepared bread pan.
Sprinkle the tops with some more cornmeal.
Cover with a damp cloth and allow it to rise in a warm setting until it is doubled in size, approximately 1 hour.
Preheat the oven to 400°F.
Bake approximately 25 minutes or until golden. The dough will not rise to the top.
Immediately remove from the pans and cool on a wire rack.
Prep Time: 20 minutes
Cook Time: 25 minutes
Container: 2 8x4x2 inch loaf pans, large mixing bowl, medium saucepan


Ingredients
-
1/2 cup cornmeal enough to sprinkle pans and on top of dough
-
6 cups flour
-
2 packages active dry yeast
-
1/4 teaspoon baking soda
-
2 cups milk
-
1/2 cup water
-
1 tablespoon sugar
-
1 teaspoon salt