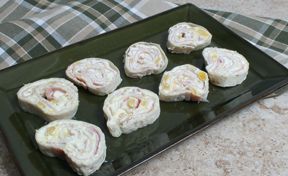 Directions
In a medium bowl, combine the cream cheese, pineapple, and curry powder until well blended.
Spread some of the mixture in a thin layer over a tortilla. The back of a spoon works well for spreading the mixture.
Cover the pineapple and cream cheese layer with a layer of the thinly sliced ham.
Spread another thin layer of the pineapple mixture over the ham layer.
Roll up the tortilla and place it seam side down onto a plate.
Repeat the process until all of the pineapple mixture is used.
Cover the rollups with plastic wrap and refrigerate for at least four hours or overnight.
After the rollups are well chilled, cut the uneven ends off of each one and slice the rollups into thin slices, approximately 3/8 inch thick. A long serrated bread knife works best for slicing.
Arrange the slices on a plate and serve.
Prep Time: 30 minutes
Cook Time: 0 minutes
Container: medium bowl, serving plate or platter
Servings: 100


Ingredients
-
16 ounces cream cheese
-
16 ounces pineapple (canned crushed pineapple, drained)
-
1/2 teaspoon curry powder
-
6 tortillas (10-inch diameter)
-
12 ounces ham (thinly sliced luncheon meat)