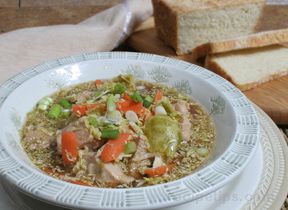 Directions
Combine the soy sauce, vinegar, teriyaki sauce, ginger and chicken broth in a saucepan and bring it all to a boil.
Reduce to a simmer and add the chicken and carrots.
Cook for 6-10 minutes.
Stir in the Brussels sprouts and continue cooking until the chicken is cooked through, approximately 5 minutes.
Divide amoung soup bowls, garnish with chopped green onions.
Serve with a warm crusty bread.
Note: You can also use leftover chicken or turkey and cook the soup just until the carrots are tender.
Prep Time: 25 minutes
Cook Time: 20 minutes
Container: large saucepan
Servings: 4


Ingredients
-
1/3 cup soy sauce - regular or low sodium
-
1/3 cup rice vinegar
-
1/4 cup teriyaki sauce
-
2 tablespoons ginger - fresh and grated
-
14 1/2 ounces chicken broth
-
1 1/2 pounds chicken breasts - boneless, skinless and cut into 1 inch pieces
-
15 baby carrots - cut in quarters or chopped
-
2 cups Brussels sprouts - thinly sliced or shredded
-
2 green onions - sliced