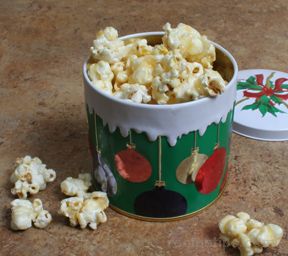 Directions
Pop the popcorn and set aside in a large bowl.
Combine the sugar, butter, and corn syrup in a heavy saucepan and bring to a boil over medium heat.
Allow to boil for about 2 minutes, stir occasionally. The mixture will be a light golden color.
Remove from the heat and add in the baking soda and vanilla extract. Stir until the baking soda is mixed in evenly.
Pour the mixture over the popcorn. Stir until the popcorn is evenly coated.
Pour coated popcorn out onto a surface lined with wax paper. Break the popcorn into smaller pieces and then allow to cool.
Store in a sealable plastic bag or an airtight container. If stored in a cool dry area, the popcorn should stay fresh for up to 2 or 3 weeks.
Prep Time: 35 minutes
Cook Time: 10 minutes
Container: Saucepan and large mixing bowl
Servings: 12
Serving Size: 1 cup


Ingredients
-
3 quarts popped popcorn
-
1 cup sugar
-
1/2 cup butter
-
1/4 cup light corn syrup
-
1/4 teaspoon baking soda
-
1/2 teaspoon vanilla extract