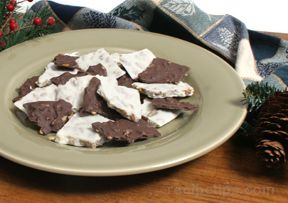 Directions
Place almond bark into a microwave-safe container and heat in microwave for 90 seconds on high.
Remove and stir. Continue heating at 15 second intervals until all is melted and smooth.
Add sunflower seeds and stir.
Spread evenly onto waxed paper and allow to cool, approximately 1 hour.
Break into smaller pieces.
Store in airtight container.
Prep Time: 0 minutes
Cook Time: 5 minutes
Container: microwave safe container, waxed paper
Servings: 12
Serving Size: 2 pieces


Ingredients
-
20 ounces almond bark, chocolate or white
-
1 cup sunflower nuts