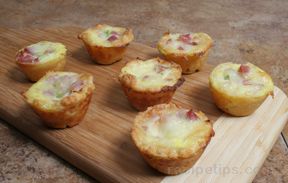 Directions
In a mixing bowl, place the cheese spread, butter, flour and garlic powder.
Use two forks or a pastry blender to cut the ingredients together until well blended.
Add the water and keep incorporating until it starts to come together into a ball.
Cover and refrigerate for 1-2 hours.
Spray the mini muffin pan with a non stick cooking spray.
In a mixing bowl, combine the egg, milk, ham, shredded cheese and the green onion.
Mix until well combined.
Take a walnut sized ball of dough and press it into the bottom and up the sides of each muffin cup.
Spoon a small amount of the egg mixture into each cup.
Bake in a preheated 350°F. oven for 20 minutes or until golden and bubbly.
Serve warm.
Can be made a day ahead and warmed in the oven before serving.
Prep Time: 20 minutes
Cook Time: 20 minutes
Container: 2 medium mixing bowl, mini muffin tin


Ingredients
-
1/2 cup butter
-
5 ounces processed cheddar cheese spread - found in the cheese aisle
-
1 cup flour
-
1/4 teaspoon garlic powder
-
2 tablespoons water
-
1 egg
-
1/2 cup milk
-
1/2 cup ham - finely chopped
-
1/2 cup Monterey Jack cheese - shredded
-
1/4 cup green onions - diced