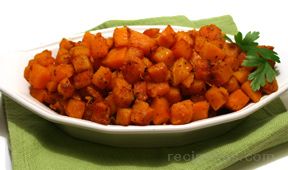 Directions
Cut squash in half lengthwise. Remove seeds and fibers.
Cut crosswise into 3 or 4 inch lengths to make peeling easier. Cut peeled squash into 1/2" wide strips, cut the strips into 1/2" cubes.
Heat butter (medium-high) in skillet until light to medium brown. Watch closely to prevent burning. If using a skillet with a dark interior, scoop some of the browning butter into a shiny spoon to check color.
Add squash cubes to butter. Stir to coat well. Cover and reduce heat to medium. Cook for about 10 minutes, remove cover and add sage and pepper. Stir to make sure that all chunks have contact with bottom of pan and cook until squash is tender. Taste for seasoning and add salt if needed.
Prep Time: 10 minutes
Cook Time: 20 minutes
Container: Heavy 12" skillet
Servings: 4
Serving Size: 1 cup


Ingredients
-
6 cups cubed squash, from a 2 1/2 lb squash
-
4 tablespoons butter
-
1 teaspoon dried sage, crumbled
-
1/2 teaspoon black pepper ( a few grinds)
-
salt, as needed