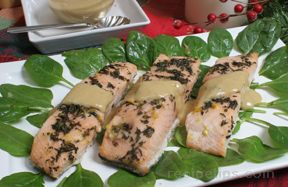 Directions
Preheat oven to 350° F.
Whisk mustard, 3 tablespoons maple syrup, 3 tablespoons water and the hot mustard or horseradish together. Cover and chill until ready to use.
Arrange salmon fillets on lined baking sheet.
Whisk the 1 1/2 tablespoons brown sugar, fresh thyme and 1 1/2 tablespoons maple syrup together to blend.
Spread mixture evenly over each fillet (about 1/2 tablespoon each).
Place in the oven and bake until salmon is just opaque in the center; approximately 14-20 minutes depending on thickness.
Transfer salmon to plates, spoon mustard-horseradish sauce over the top or along the side.
Prep Time: 15 minutes
Cook Time: 20 minutes
Container: baking sheet lined with foil, 2 small mixing bowls
Servings: 6


Ingredients
-
1 cup Dijon mustard
-
3 tablespoons maple syrup plus 1 1/2 tablespoon(s)
-
3 tablespoons water
-
2 tablespoons german hot mustard or horseradish sauce
-
6 salmon fillets 8 oz. each
-
1 1/2 tablespoons brown sugar
-
1 1/2 tablespoons thyme - fresh, chopped