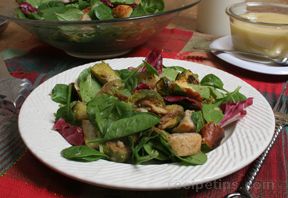 Directions
For the vinaigrette, melt the butter into a medium saucepan over medium heat.
Add the apple slices and sauté until golden brown, turning occastionally for 6-10 minutes.
Transfer the apple slices and pan juices to a food process or blender and let it cool slightly.
Add the oil, vinegar and shallots.
Process until smooth.
Add the apple juice, 2 tablespoon at a time, until it is at a pourable consistency.
Season with salt and pepper to taste.
For the croutons, preheat the oven to 400°F.
Place the bread cubes on a tray and drizzle with olive oil.
Melt the butter in a small skillet, add the garlic, sage and thyme.
Sauté until fragrant, approximately 1 minutes.
Pour the butter mixture over the bread cubes and toss to coat.
Sprinkle the cheese over the bread cubes and season with salt and pepper.
Bake the croutons until golden, stirring occasionally, for approximately 6-10 minutes.
Cool on a baking sheet.
Sauté the bacon in a medium skillet until crisp, drain and crumble.
Cook the brussels sprouts in a large pot of boiling water until tender, approximately 7 minutes. Drain.
Combine the croutons, bacon and brussels sprouts in a large bowl.
Add the raddichio and enough of the vinaigrette to coat, toss well to coat.
Serve with extra vinaigrette on the side.
Prep Time: 10 minutes
Cook Time: 40 minutes
Container: medium skillet, large baking sheet, large serving bowl, food processor or blender
Servings: 8


Ingredients
-
VINAIGRETTE:
-
4 tablespoons unsalted butter
-
1 Granny Smith apple - peeled, quartered and cut into 1/2 inch slices
-
1/2 cup olive oil
-
1/3 cup apple cider vinegar
-
1/4 cup shallot - finely chopped
-
8 tablespoons apple juice
-
CROUTONS:
-
1/2 pound loaf of Hawaiian sweet bread, cut into cubes (approximately 5 cups)
-
loaf cranberry walnut bread, cut into 1
-
1/4 cup butter
-
2 garlic finely chopped
-
1 tablespoon sage fresh chopped
-
2 teaspoons thyme fresh minced
-
6 tablespoons fresh grated Romano or Parmesan cheese
-
salt and pepper to taste
-
SALAD:
-
1 package radicchio/spinach or spring mix
-
4 bacon slices, crisped and crumbled
-
1 pound Brussels sprouts trimmed, halved