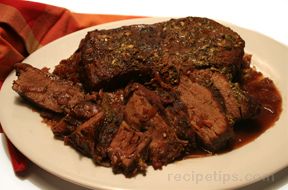 Directions
Mash together the minced clove of garlic, parsley, lemon zest, 1/2 teaspoon salt and 2 teaspoons olive oil. Make narrow slits, about an inch deep, in the surface of the meat and pack the parsley mixture into the slits. Salt and pepper the meat.
Heat remaining olive oil in a heavy skillet or Dutch oven and brown the meat on all sides. Remove meat to a plate and add onion, celery and carrot to the pan. Cook 5 minutes, stirring occasionally. Add peeled garlic cloves and cook another minute or two. Add these vegetables to the plate with the meat.
Add wine to browning pan, raise the heat and boil until reduced by half. If using optional seasonings, add to the browning pan along with the wine. Stir in tomato paste. Return vegetables and meat to pan. Cover and adjust heat to maintain a very low simmer. Cook until tender, 2 - 3 hours, checking periodically to add water if liquid level gets too low (should be at least an inch). Turn meat once or twice as it cooks.
Taste for seasoning, adding salt and pepper as needed. Slice thickly and serve hot, with sauce spooned over. Serve with polenta, noodles, rice or potatoes.
Prep Time: 30 minutes
Cook Time: 3 hours
Container: Heavy 10
Servings: 6
Serving Size: 2 slices


Ingredients
-
10 cloves garlic, 1 minced, 9 peeled and left whole (use more if desired)
-
1/4 cup parsley leaves, finely chopped
-
2 teaspoons lemon zest (zest from 1/2 lemon)
-
3 tablespoons olive oil, divided
-
3 1/2 pounds chuck roast
-
1 large onion, finely chopped
-
1 stalk celery, finely chopped
-
1 large carrot, finely chopped
-
2 cups dry red wine
-
3 tablespoons tomato paste
-
salt and pepper
-
OPTIONAL SEASONING:
-
2 teaspoons dried oregano
-
1 teaspoon dried thyme
-
1 teaspoon dried rosemary