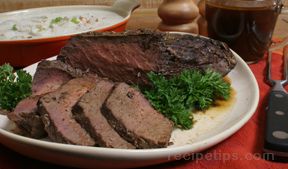 Directions
Pour 1/4 cup of oil in a roasting pan or dutch oven.
Heat on the stove on medium.
Rub the meat all over with the rub mixture. Place roast in the oil and brown on both sides.
Heat oven to 400 degrees F. Place the dutch oven or roasting pan in the oven, uncovered.
Roast for 1/2 hour, turn the roast over and lower the heat to 350 degrees F.
Roast for another 20 minutes or until the internal temperature reaches 130 degrees F. for rare, 145 degrees F. for medium, etc.
Remove from the oven and allow it to rest for 15 minutes before carving.
After the roast has been removed, place the roaster or dutch oven on top of the stove over medium heat.
Add two cups of broth, stir to combine with the drippings.
Simmer for 5 minutes. Pour through a strainer and serve warm with the meat.
Container: roasting pan or dutch oven, small mixing bowl
Servings: 10


Ingredients
-
2 1/2 pounds top round beef roast
-
1/4 cup olive oil
-
2 cups beef broth
-
RUB:
-
1 tablespoon pepper
-
1 tablespoon barbecue seasoning powder
-
1 tablespoon rosemary
-
1 teaspoon garlic salt
-
1/4 cup olive oil