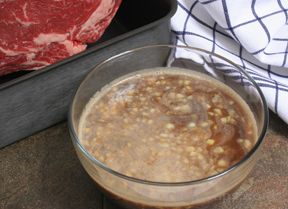 Directions
Combine all ingredients except the beer in a bowl and mix thoroughly.
Stir in the beer.
Poke holes throughout the meat with a fork. Place the meat in a dish or pan with sides. Do not use plastic.
Pour the marinade over the meat.
Cover and place in the refrigerator for 2 hours. Remove every 30 minutes and turn the meat in the marinade.
Remove the meat from the refrigerator and cook as desired.
Discard used marinade. Do not reuse.
Cook Time: 20 minutes


Ingredients
-
1 teaspoon ground ginger
-
1/2 cup orange marmalade
-
4 cloves garlic, minced
-
2 tablespoons brown sugar
-
3 tablespoons soy sauce
-
1/4 teaspoon hot pepper sauce
-
2 teaspoons dry mustard
-
1 cup beer