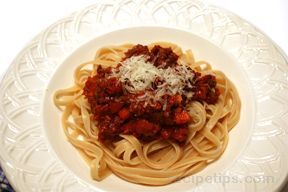 Directions
Cook the bacon (medium-low) until crisp. Remove bacon, leaving fat in pan.
Mix ground beef with 1/2 teaspoon salt and a few grinds of black pepper. Raise heat under skillet to medium-high and crumble the meat into the skillet. Brown lightly, then scoop out most of the meat, leaving some (about 1/4 of the total) to get dark brown. Put this meat in with the lightly browned, and discard all but 2 tablespoons of fat.
Add the vegetables to fat in skillet and cook , stirring occasionally, until they soften - about 5 minutes, then add them to the meat.
Add wine to skillet, raise heat to high, and boil until there is just a thin layer on the bottom of the pan, stirring to dissolve any browned bits.
Add tomatoes including juice, and mix with the reduced wine. Stir in meat and vegetables and adjust heat to maintain a very slow simmer. Simmer for 2 - 3 hours, until very thick. Taste for seasoning and add salt and pepper as needed. ( If salt is added earlier, the sauce might become too salty as it reduces)
Add milk or cream and simmer for another 10 - 15 minutes.
Serve hot, over pasta, topped with grated cheese if desired.
Prep Time: 30 minutes
Cook Time: 3 hours
Container: Heavy skillet or Dutch oven
Servings: 4


Ingredients
-
1 slice bacon, chopped
-
1/2 pound ground beef
-
1 onion, finely chopped
-
1 carrot, finely chopped
-
1 stalk celery, sliced thin
-
2 cloves garlic, minced
-
1 cup red wine
-
1 28 oz can tomatoes (break up if whole)
-
whole milk or cream
-
salt and pepper
-
grated parmesan cheese (optional)