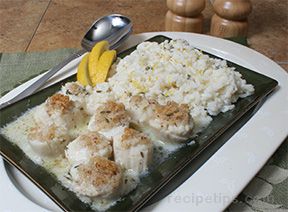 Directions
Preheat oven to 375° F.
Melt 4 tablespoons butter in skillet.
Add nutmeg and stir in wine. Add scallops, turning to coat. Remove from heat.
Melt 1 tablespoon butter in small bowl in microwave.
Stir in breadcrumbs and nuts and sprinkle over the scallops.
Place skillet in oven and bake 10-15 minutes or until bubbly and golden brown.
Serve with lemon risotto or hot, cooked pasta.
Prep Time: 15 minutes
Cook Time: 15 minutes
Container: ovenproof skillet, small bowl
Servings: 2


Ingredients
-
5 tablespoons unsalted butter - divided
-
1/2 cup white wine - dry
-
1/4 cup half-n-half
-
2 teaspoons thyme - fresh
-
1/2 teaspoon salt
-
1/2 teaspoon pepper
-
1 pound bay scallops
-
1/4 cup panko breadcrumbs
-
1/4 cup almonds
-
1/2 teaspoon nutmeg - slivered, finely chopped