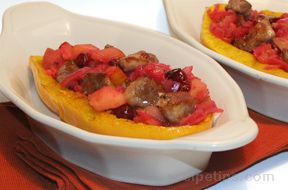 Directions
Cut pork into small cubes, about 1/2". Trim off excess fat. Salt and pepper lightly. Wash apple (don't peel), remove core and chop into small dice, 1/2" or smaller. Finely chop onion.
Heat oil in skillet. Add pork and onion to hot skillet and brown lightly, about 5 minutes.
Add apple, cranberries, soy sasuce and cider or water. Simmer until most of the cranberries have "popped" and liquid is mostly evaporated, about 15 minutes (add more water if needed to keep mixture from drying out).
While meat mixture cooks, cut squash in half lengthwise and scoop out seeds and fibers. Microwave, cut, side down, until soft, 8 - 10 minutes.
Taste meat mixture for seasoning. If too tart, stir in a teaspoon of honey or sugar. Spoon into cooked squash halves and serve hot.
Prep Time: 15 minutes
Cook Time: 20 minutes
Container: 10
Servings: 2


Ingredients
-
1 medium sized acorn squash
-
1/2 pound pork
-
1 tablespoon oil
-
1 onion
-
1 cup cranberries, fresh or frozen
-
1 large apple
-
2 teaspoons soy sauce
-
1 cup cider or water
-
1 teaspoon honey or sugar, if needed
-
salt and pepper