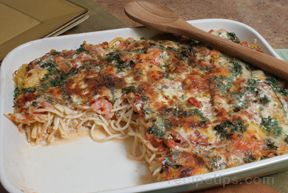 Directions
Grease a 9x13x2 casserole dish.
Layer the dish with 1/2 of the pasta, shrimp, Swiss cheese, provolone cheese and salsa.
Repeat the layers and then sprinkle with the colby jack cheese, parsley, basil and oregano.
In a small bowl, whisk the eggs, cream and yogurt.
Pour over the casserole and bake, uncovered, in a 350° F. oven for 25-30 minutes or just until heated through and bubbly.
Allow to stand for 5 minutes before serving.
Prep Time: 25 minutes
Cook Time: 45 minutes
Container: 9x13x2 casserole dish, small mixing bowl
Servings: 12


Ingredients
-
1 pound spaghetti or fettuccini pasta - cooked and drained
-
1 1/2 pounds shrimp - cooked or uncooked
-
1 cup Swiss cheese
-
1 cup provolone cheese
-
16 ounces salsa - chunky
-
3/4 cup Colby Jack cheese
-
3/4 cup parsley - fresh and minced
-
1 teaspoon basil
-
1 teaspoon oregano
-
2 eggs
-
1 cup half-n-half
-
8 ounces yogurt - plain