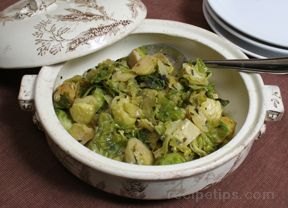 Directions
After trimming the stems of the washed Brussels sprouts, peel away some of the outer leaves and place them in a large bowl of cold water.
Cut the rest of the Brussels sprouts in half and add them to the water as well.
Transfer the sprouts to a large skillet with one cup of cold water.
Bring to a boil, cover and reduce the heat to low and cook until tender, 10-15 minutes.
Drain in a colander.
Wipe the pan dry and add butter, oil and sage.
Cook over medium heat until the oil and butter are infused with the sage, 3-5 minutes.
Do not brown the sage.
Add the Brussels sprouts, salt and pepper to the oil and toss to combine until the sprouts are coated.
Serve warm.
Prep Time: 15 minutes
Cook Time: 25 minutes
Container: large bowl, large sauté pan
Servings: 8


Ingredients
-
2 pounds Brussels sprouts
-
5 tablespoons unsalted butter
-
3 tablespoons olive oil
-
1/4 cup sage leaves - fresh and chopped
-
salt and pepper to taste