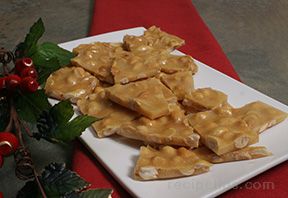 Directions
Butter baking sheet.
Combine corn syrup and sugar in mixing bowl. Microwave on high for 3 minutes, stir and place back in the microwave for an additional 2 minutes on high.
Stir in peanuts and microwave on high for 4 minutes or until mixture becomes a golden brown.
Add vanilla and butter, stirring until butter is completely melted. Microwave for 1 minute.
Remove from microwave and stir in baking soda.
Quickly spread out evenly on greased baking sheet.
Let cool completely and then break into small pieces to serve.
Prep Time: 1 minute
Cook Time: 15 minutes
Container: medium glass mixing bowl, baking sheet with sides
Servings: 8


Ingredients
-
1 cup sugar
-
1/2 cup light corn syrup
-
1 1/2 cups dry roasted peanuts
-
1 tablespoon butter
-
1 1/2 teaspoons vanilla extract
-
1 teaspoon baking soda