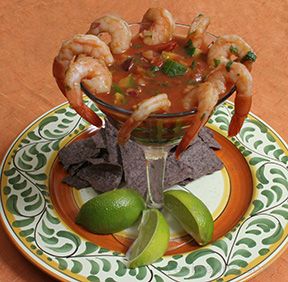 Directions
Mix all ingredients in large non-reactive container. Let sit for 4-6 hours or overnight in refrigerator.
Remove the shrimp from the vegetable mixture and arrange on the rim of a martini glass or glass of choice. Serve the salsa in the glass for dipping.
Serve with limes and Tabasco® if desired.
*Note: If you like a thicker dipping sauce, reduce the amount of tomato juice used.
Prep Time: 15 minutes
Container: large mixing bowl
Servings: 6


Ingredients
-
1 large can V-8 or clamato juice (spicy if desired)
-
2 avocados - chopped
-
2 cucumber - seeded
-
1 red onion - chopped
-
1/2 bunch fresh cilantro, chopped
-
4 basil leaves, chiffonad
-
1 jalapeño - seeded, chopped
-
1 pound shrimp - large, peeled, cooked
-
2 limes - quartered
-
salt and pepper to taste
-
Tabasco® to taste