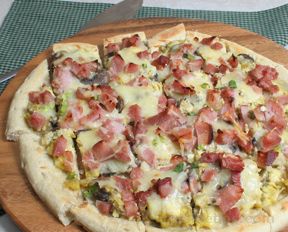 Directions
Heat oven to 400° F.
In a medium skillet, heat 2 tablespoons of margarine, one tablespoon on olive oil over medium heat.
Add mushrooms and green onions and sauté until the mushrooms start to brown, approximately 10 minutes.
Sprinkle with flour then pour in the milk and stir to combine, keep stirring until it becomes thick, approximately 3-5 minutes.
Remove from heat and set aside.
In another medium skillet, melt 2 tablespoons of margarine or butter over medium heat.
Add eggs and cook, stirring gently until soft scrambled.
Add in the mushroom mixture and stir to combine.
Salt and pepper to taste.
Place pizza crust on baking sheet.
Top with the egg mixture, half of the cheese, sprinkle with ham and then the rest of the cheese.
Sprinkle green onion over the top and bake for 15-20 minutes or until the cheese is melted and bubbly.
Prep Time: 20 minutes
Cook Time: 20 minutes
Container: baking sheet, 2 skillets
Servings: 6


Ingredients
-
4 tablespoons butter or margarine - divided
-
1 tablespoon olive oil
-
2 tablespoons flour
-
1/3 cup milk
-
6 eggs - beaten
-
salt and pepper to taste
-
8 ounces mushrooms - sliced
-
1 12 inch pizza crust
-
2 cups ham - cooked and diced
-
1 cup mozzarella cheese - shredded
-
1 cup Swiss cheese - shredded
-
1/4 cup green onions - sliced, plus more for garnish