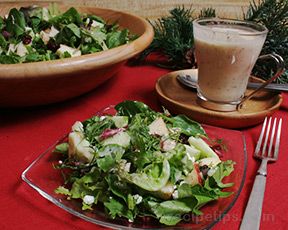 Directions
SALAD:
Cook bacon in skillet until crisped and brown. Drain on paper towel. Crumble once cooled.
Combine bacon, apples, chicken, cranberries, pistachios, lettuce and spinach.
Just before serving toss with 1/2 cup vinaigrette and sprinkle with cheese.
DRESSING:
Combine vinegar, shallot, maple syrup, mustard, thyme in blender. With blender running pour in olive oil in steady stream. Stir in salt and pepper to taste.
Refrigerate, covered, up to three days.
Prep Time: 20 minutes
Cook Time: 20 minutes
Container: large skillet, large mixing bowl, blender or food processor
Servings: 4


Ingredients
-
4 bacon slices
-
1 Granny Smith apples, diced
-
1 red apple, diced
-
2 chicken breasts - large, grilled or sauteed and cut into bite sized pieces
-
1 cup craisins
-
1/2 pistachios or almonds, chopped
-
4 cups lettuce
-
4 spinach - chopped
-
6 ounces goat cheese - flavored or plain, crumbled
-
DRESSING:
-
1/3 cup apple cider vinegar
-
2 tablespoons shallot - minced
-
2 tablespoons maple syrup
-
2 teaspoons Dijon mustard
-
1/2 teaspoon thyme - dried leaves
-
2/3 cup olive oil
-
salt and pepper to taste