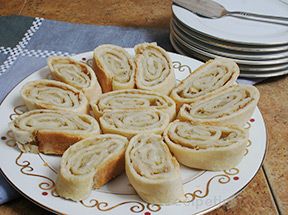 Directions
Dough:
Combine flour, baking powder and salt in medium bowl. Make a well in the center. Add egg, 4 tablespoons oil and water. Work into the flour until dough is formed, if the dough is too soft, add more flour.
Turn dough out onto lightly floured surface and knead until smooth and elastic. Cover while preparing filling.
Filling:
Heat butter or margarine in skillet. Stir in remaining ingredients. Cook over medium heat, stirring occasionally, until cabbage is tender; approximately 20 minutes.
Remove from heat and let cool for 15-20 minutes.
Roll out dough into rectangle, fairly thin.
Cover with cabbage mixture and roll up, jelly roll fashion.
Place on greased baking sheet brushed with oil.
Bake at 350° F; approximately 45-55 minutes or until crisp and brown.
Slice while hot.
Prep Time: 25 minutes
Cook Time: 20 minutes
Container: large baking sheet, medium bowl, skillet
Servings: 6


Ingredients
-
2 1/2 cups flour
-
1/2 teaspoon baking powder
-
1/2 teaspoon salt
-
1 egg
-
6 tablespoons cooking oil
-
3/4 cup ice water
-
1/2 cup butter or margarine
-
6 cups cabbage - shredded, about 1/2 head
-
1/2 cup onion - chopped
-
1/4 teaspoon pepper
-
1/2 teaspoon sugar
-
1/2 teaspoon mustard seed