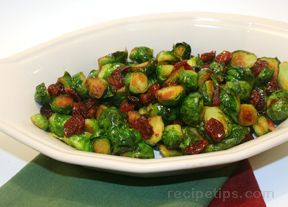 Directions
Heat wine and add dried cherries. Set aside.
Prepare sprouts: remove any damaged leaves; trim any long stems but leave enough stem so the sprout holds together. Cut in half lengthwise.
Cut bacon into narrow strips or dice. Cook in skillet until crisp. Drain off all but 1 tablespoon of fat.
Add sprouts with cherries and wine to bacon. Stir to mix, and cook (medium-high) until liquid has evaporated and sprouts are just tender, 2 to 5 or more minutes, depending on size of sprouts. Don't overcook or they will be mushy and strong-tasting.
Serve hot.
Prep Time: 15 minutes
Cook Time: 10 minutes
Container: 12 inch skillet
Servings: 4
Serving Size: cup


Ingredients
-
1 pound Brussels sprouts, preferably 3/4" - 1" size
-
1 cup white wine (substitute chicken broth)
-
1/2 cup dried sour cherries (substitute golden raisins)
-
2 slices bacon