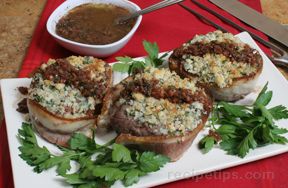 Directions
Melt one tablespoon butter in heavy skillet over medium high heat.
Add garlic, shallot and thyme.
Sauté until shallots are tender, stirring occasionally for approximately 5 minutes.
Add broth and wine.
Boil until the sauce is reduced to 1/2 cup, approximately 10-12 minutes.
Set sauce aside.
Blend cheese, bread crumbs and parsley in a small bowl.
Preheat the broiler.
Melt 2 tablespoons of butter in a large, heavy skillet over medium high heat.
Sprinkle steaks with salt and pepper.
Add steaks to the skillet and cook to desired doneness, five mintes per side for medium rare.
Transfer steaks to a baking sheet.
Reserve the skillet with the pan juices.
Press cheese mixture on top of steaks, dividing evenly.
Broil until the cheese browns, approximately 2 minutes.
Transfer steaks to plates.
Pour sauce into the reserved skillet with juices.
Bring to a boil, scraping up browned bits.
Boil 1-2 minutes, stirring in remaining 1 tablespoon of butter.
Season with salt and pepper. Spoon sauce over steaks and serve.
Prep Time: 20 minutes
Container: medium skillet, medium bowl, baking sheet
Servings: 4


Ingredients
-
4 tablespoons butter
-
3 cloves garlic - chopped
-
1 shallot - chopped
-
1 tablespoon thyme - chopped
-
1 cup beef broth
-
1/4 cup dry red wine
-
1/2 cup blue cheese - Maytag, coarsely crumbled
-
1/4 cup panko bread crumbs
-
1 tablespoon parsley - chopped
-
4 sirloin filet - bacon wrapped or filet mignon